CC Creator - Notifications
Last modified:
---
Notifications are small pop-ups that remain on the screen for a certain time to launch a short message.
We can use them to launch feedback after answering questions, to give warnings to the student to access certain content, etc.
Depending on the authoring mode chosen, you can perform different actions:
Easy Mode:
- Manage pop-ups
- View notifications in list or grid mode.
- Modify notification properties
Professional Mode:
- Modify the visibility of notifications.
Manage pop-ups
To manage notifications, go to the top left button.

In the " Notifications" area you can:
- Create new notifications, using the templates available in the theme.
- Rename the created notifications.
- Duplicate and create a copy.
- Delete notifications.

View notifications in listing or grid mode

In the default notification management menu, you will see the list in thumbnail mode. If you prefer, you can view them in list mode by pressing this option:

Modify notification properties.
When you access a notification, its properties menu opens.

The properties you can configure are:
Your title
Your identifier. This is a self-generated data by the system but you can customize it. If you customize it, you will help make the trace that the unit sends to the platform clearer (it is not the same that the content sends to the platform that "student1 interacted 29cb85cfg44", than sending for example that "student1 interacted popup1"). Remember that the Identifiers must be different, you cannot repeat any identifier of any element within the unit, so you must be careful when modifying them and not repeat them.
Its duration, the time that it will be visible on the screen and when it will disappear. It is indicated in milliseconds.
Modify the visibility of notifications.
In Professional mode, when you open a notification, among its properties you can see the "Visibility" option. You can decide whether or not a notification is visible based on the condition you decide. Tap Add Condition. Here you can decide which object/component is going to be used as a reference and then you can decide the trigger that will make the notification visible. Depending on the object you choose, you will have different triggers. For example, you could make the notification visible when the student passes an activity, or after watching a video.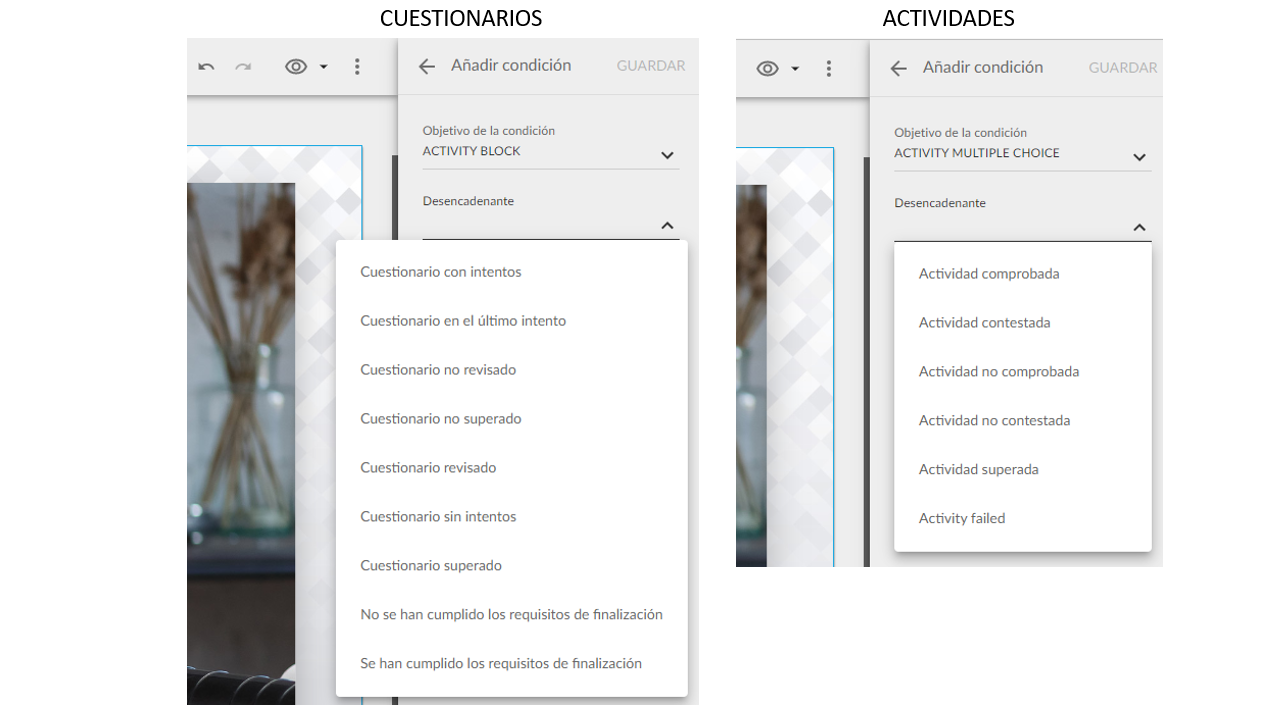 Once the notification is configured, you can edit its content (texts, images, videos...) and add new sections if necessary.