CC Creator - Configuration - Language management
Last modified:
---
All units created with contentCloud Creator can be multi-language.
For unit language management, go to the general editing menu, and then go to "Drive Settings".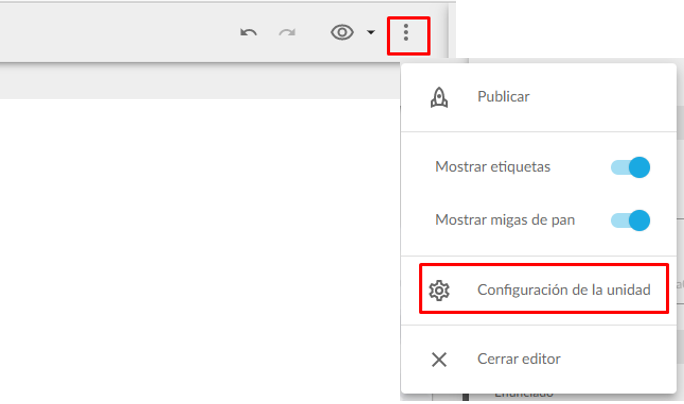 Manage unit languages
By accessing the "Language Management" area you can:
- Add a new language, by clicking on the blue button below.
- Modify the language of the unit. Click on "Edit" and you can change the base language of the unit.
- Set one of the languages as the default, i.e. the language that is loaded first when you open the drive. This only works when there are two or more languages added to the drive.
- Delete a language. It only works when two or more languages are added.
- Translate the contents of the unit using XLIFF files. You must export the content and, later, once that file is translated, import it.
Translate a unit into multiple languages
When you have a unit in two or more languages, you can automatically translate its content through XLIFF files, or you can translate it manually.
To translate it manually, when there are several languages, access to each language is activated in the top menu.
By entering each language, you can change the text.
Remember that you must translate all the elements of the screen, including the texts of the buttons (forward, backward, reply, retry...). And you can also replace the multimedia elements by language. This way, you could have a different video or image in each language. This is especially useful when you have images with text.
Remember that in order for the student to see the unit in the different languages it is necessary to add an element that allows them to exchange the content between languages.
The options can be diverse:
For example, having a top button on the unit to switch languages.
If you have only two languages, you can easily configure it: when I am editing language A (for example, English), in the button settings I will indicate that I want to "Change language" to Spanish. Then, enter the edition the language B (for example, Spanish) and indicate in the configuration of the button that English translation will open.
Now, if you have more than two languages, the recommended configuration will be another:
The button will be configured to open a pop-up window (or another page, for example). And in that pop-up window you will add the corresponding buttons to configure the language of the unit.